7 Frugal Travel Tips for Summer
Your bags are packed, you're ready to go. But before you say "Bon voyage," make sure you've read this list of money-saving travel tips.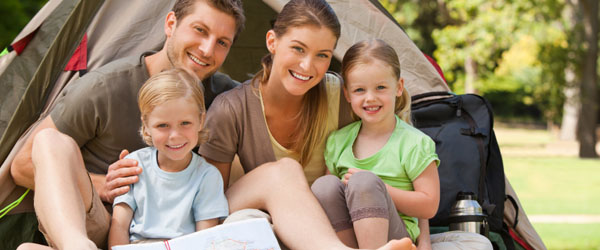 RECENT GRAD? LEARN HOW BEST TO MANAGE YOUR MONEY
Avoid Baggage Fees
As airlines continue to struggle financially, many have introduced (or increased) baggage fees. Before you book your flight, make sure to read the fine print so you don't end up shelling out money you planned to spend on your trip. Some airlines, including JetBlue and Southwest, don't charge for your first checked bag. Another option: Pack light.
Pitch a Tent
When you consider lodging, meals and entertainment, the cost of travel – especially a family trip – can be overwhelming. We suggest you skip the long lines at Disney World and take the kids camping instead. National Parks charge a relatively inexpensive nightly fee (approximately $20), but there are many places you can camp for free.
Find Freebies
We don't need to tell you that children are expensive. Which is why when you travel with them, make sure to find lodging where kids stay and eat free. Many hotel chains offer free or discounted rates for children – check out Holiday Inn and the Choice Hotel group (who operate Comfort Inn and Clarion, among many others).
Book Last Minute
Many airlines, hotels and rental car agencies offer discounted rates for last minute bookers. If your schedule is flexible, arranging travel at the eleventh hour can save you a bundle. We suggest registering your email with Travelocity, Priceline and/or AirfareWatchDog.com – you'll receive notifications on special offers, discounted rates and last minute deals.
Skip the Hotel
Although it may feel like couch surfing to those new at it, staying at an apartment (as opposed to a hotel) is a terrific way to save money while traveling. Websites like Airbnb.com have listings by owner for apartments all over the globe, at rates significantly cheaper than hotels. Most likely, the apartment will have a kitchen, which means saving money on eating out.
Travel During the Week
Weekends are getaway time during the summer, when people cut out of work early on Friday or take a Monday off. If you can, avoid the crowds (and the traffic) and opt for a mid-week trip instead. Hotel and vacation rental rates are generally less expensive then, too.
Brown Bag It
Whether you're headed off to the beach or an action-packed day at Six Flags, you're bound to work up an appetite. Instead of paying peak prices for food and drink, bring your own lunch. (This is also a good way avoid high calorie meals and sodas.) Pack healthy, inexpensive snacks like watermelon, potato salad and homemade lemonade.
Do you have advice for traveling on a budget? Let us know! We'd love to hear from you.