Make Mom's Day: Best Ideas for Mother's Day
Mom. There's no one in the world quite like her. And we're willing to bet that it was she who taught you the value of cutting coupons in the first place. This Mother's Day, show your mom how much you appreciate all that she's done for you with these ideas for recipes, DIY gifts and more from some of our most trusted sources across the web.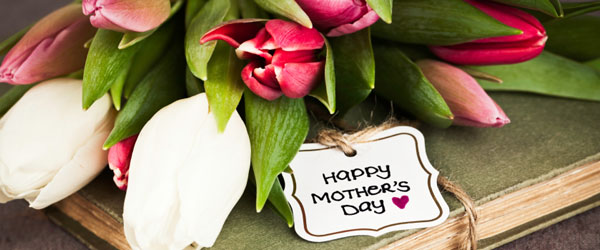 CLICK HERE TO BROWSE OUR SELECTION OF MOTHER'S DAY COUPONS
Food as Love
Whether her specialty was tuna noodle casserole or Coq au Vain, no one's cooking was, or ever will be, as good as Mom's. So what better way to celebrate your mother than by making a feast in her honor? We love the ideas for brunch recipes featured on RealSimple.com, because nothing says I love you like a piece of spinach quiche, several slices of candied bacon and a carafe of pear mimosas served in your daintiest glasses.
DIY Gifts
As the saying goes, money can't buy you love. And with that sentiment in mind, we believe that gifting for Mother's Day doesn't have to be expensive. Homemade gifts are a personal alternative to store-bought presents, and can be a nice way to get your kids involved. ParentMap.com has a terrific slideshow of budget-friendly ideas that Mom will go gaga over. For the mother with the green thumb, we love the herb garden boots, and for the super busy mom, try the hand-sewn sachets filled with dried lavender, perfect for placing under a pillow for a good night's sleep.
Bountiful Bouquets
Mother's Day is practically synonymous with flowers – and the fact that they are beautiful, smell lovely and bring a certain elegance to any room makes them a fail-safe gift for Mom. Among the dozens of online purveyors, we like FTD for their stunning rose and lily bouquets, and at 1-800-FLOWERS, the cheery arrangements and whimsical vases will make a heartwarming declaration of love and gratitude.
Pampering 101
Mom was (and still is) the ultimate caregiver – dosing you with homemade chicken soup when you were sick, buying you that puppy you begged for and sending you care packages during college finals – which is why we think she deserves some serious TLC on Mother's Day. At MarthaStewart.com, learn how to whip up a skin-brightening mask from papaya, honey and yogurt or craft a pair of fluffy monogrammed slippers to thank your mom for all the love she's given you.