Money Management 101: Practical Advice for College Students and Recent Grads
'Tis the season of the high school graduation, and our caps go off to all those hardworking seniors. But before heading off to school this fall, it's worth taking the time to consider ways to avoid becoming that "broke college kid." Here's a list of best practices to help keep finances under wraps while still enjoying one of the most memorable times of your life.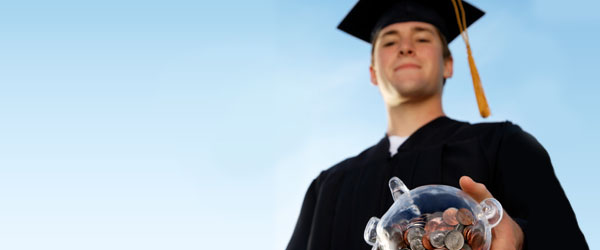 Avoid Using Credit Cards
Abusing your credit card is one of the quickest ways to end up in debt. It's easy to ignore how much you're spending and how much debt you're accruing. Instead, use cash or an ATM card. Also, consider banking online, which allows you to access your transactions and review your spending habits from any computer or mobile device.
Make a Budget
It's tempting to fritter away money on cocktails with friends, late night snacks and weekend road trips, but you can protect yourself against unnecessary spending by creating a monthly budget – and sticking to it! This is a valuable life skill worth mastering when you're young.
Buy or Rent Used Textbooks
Textbooks can be a huge expense for students, but most college bookstores have used copies – all you have to do is ask. Another great place to find used textbooks for sale and for rent is at websites like Chegg, eCampus and Bookrenter.
Take Advantage of Free Campus Events and Activities
Your student ID is a powerful tool for saving the green stuff, so take advantage of free concerts, lectures, trips, dorm dinners, intermural sports clubs, etc., offered by your school. Also, keep an eye out for local businesses and museums that give discounted rates to students.
Lose the Car
Owning a car can be a serious drain on your expenses when you add up gas money, maintenance fees, garaging costs and parking tickets. Consider ditching your car entirely for campus buses, mass transit or your bike. You'll get some exercise while you're at it.
Get a Campus Job
A campus job isn't the most glamorous occupation, but it does help supplement your funds and can be a great way to meet new people. If you have a marketable skill, like fixing computers, you can always start your own business. Entrepreneurial initiative looks great on a resume.
Use Online Deals and Coupons
Websites like Groupon and Living Social offer products and services at deep discounts. Take advantage of these deals when you need to spend money on something expensive, like a visit to the dentist. Also, you can find tons of coupons online – just check out our selection.
Eat at the Cafeteria
It's tempting to eat all your meals at the local pizza joint, but by dinning at the cafeteria (or cooking at home), you'll find yourself saving major moola. Need a break from the Caf? We suggest using websites like Seamless or apps like The Happy Hour Finder to find discounts on food and drinks in your area.
Contact the Career Center
If you have accumulated debt during your college years, it's not the end of the world. Be proactive about paying off debt by figuring our your post-college plan before you graduate. Your school's career website has job listings, as well as useful information on writing resumes, cover letters and how to ace an interview.