New Year, New You
Everyone wakes up on January 1st and resolves to change at least one aspect of their life over the next 365 days, but did you know that over 50% of the American population focuses their newfound determination on weight loss and physical fitness health? Getting started can be hard, but staying put on an exercise regime, while cautiously monitoring your calorie count is even harder. To make your body transformation successful in 2012, here are some must haves (at rock bottom – or, rock solid -- prices):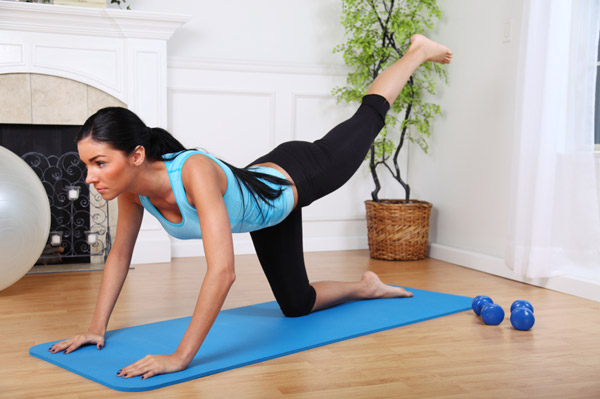 Diet
The first step in taking control of your body is closely looking at your current eating habits and patterns. WeightWatchers.com wants to be the first stop on your journey, so they're offering a free online personal nutritional and exercise assessment, which will give you suggestions and tailored advice on how to move forward. The next major step is correcting your eating wrongs, and even though diet is a bad word to some, it is vital to stick to an eating schedule of nutritious foods and a specific portion size. NutriSystem.com, which delivers tasty morsels right to your door, would like for you to eat for free three weeks in a row, so that you can decide if it's right for you. If you prefer to prepare your own meals, choose from a range of diet plans from EDiets.com, where you can get 25% off for a limited time.
At-Home Fitness
Sweating, shimmying and bouncing in front of complete strangers, especially when you are a little self-conscious of your body, is not our idea of a good workout experience. Start your new active life at home with fitness kits, DVDs and compact fitness equipment, instead. QVC.com knows that you've secretly wanted to try Zumba, the worldwide dance fitness craze, so they're offering the Zumba Total Body Transformation 8-piece DVD set for $79.80. If dancing is not your forte, Target.com has a range of fitness DVDs, and with your purchase you'll get 15% off Gaiam and Reebok fitness items through March 10th – double bonus! Not to be forgotten, Kmart.com has fitness equipment, such as treadmills and elliptical machines, at up to 30% off, plus you'll get an additional $25 off when you spend $250. If you're looking for an all-in-one kit, visit TimeForMe.com where you'll find the Kettle Bell Solutions Kit or the muscle-building Thigh Glider. Through February 2nd, when you spend $150, you'll get 15% off.
New Workout Gear
One of the best parts about losing weight is seeing how different your body looks in clothing, so don't work out in your husband's oversized t-shirts. Right now, Gaiam.com is offering free shipping with your $75 purchase of yoga and fitness apparel, including their super-comfortable exercise pants. Lucy.com, the go-to site for women's fitness essentials, is having a sale where you'll nab some bestselling items at up to 50% off.
Best of luck as you begin your healthy life.