July Frugal Forecast: Have A Firecrackin' Fourth of July
July marks the momentous month in our nation's history when we won independence from England. Nowadays, as the weather warms, people get together to spend the holiday weekend with friends and family. Whether you're planning a backyard BBQ or a trip to the shore for a beach picnic, we've put together some great tips and deals to keep you saving while you're celebrating. As an added bonus, you'll also get a heads up on our staff's picks for the 5 best new and expiring coupons of the month!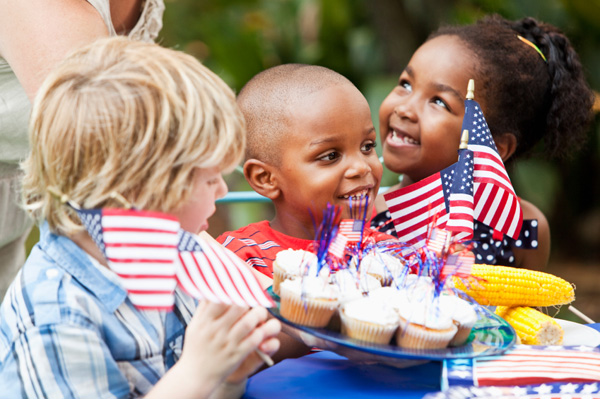 Backyard BBQ
The Fourth of July is prime time to celebrate America by decorating your backyard in red, white, and blue. If you're hosting a BBQ party, you'll want to make sure to have plenty of comfortable seats for your guests. FireForLess has unbelievable deals going right now with up to an amazing 80% off patio furniture. It's not a party without food, but we recommend planning your menu ahead of time. If you've got a ton of people coming over you might want to serve chicken over steak, and chips and salsa might be easier than platters of individually prepared appetizers. Get all the supplies you need for a fabulous Fourth of July fest at MyGofer. You'll save 10% off your $20 purchase. Lastly, as if we have to even say it, grill…everything! Right now, you can snag a top quality Weber Grill at a discount from CS Grills and get the party started.
…Two If By Sea
Our Founding Fathers may not have spent a ton of time soaking up the rays, but they sure spent a lot of time by the sea. If you're one of the ones lucky enough to be heading to the shore this Fourth, then you'll want to make sure you have plenty of sunscreen to protect the kids from harmful UV rays. We all know how expensive it's gotten, so save $5 off 3-pack 6 ounce bottles of Banana Boat ultra defense ultra clear mist SPF 30 at Amazon. Ready to sport a new look on the beach this summer? Treat yourself to a new bikini at SwimSpot, and save yourself 30% off. Lastly, the party may be hoppin', but that doesn't mean you won't want a little quiet time to catch up on your beach reading. Indulge in the guilty pleasure of your favorite magazines by saving $5 off when you buy them at magazines.com.
Fun For Kids
After the BBQ comes the dreaded food coma, and that means you're going to need plenty of activities to keep the kids entertained. Visit Kmart online for great deals on good old-fashioned American games like horseshoe and bocce with $20 off $200 on toys and games. And if your kids love craft projects, let them help deck out your Fourth of July with homemade decorations like American flag drink stirrers, labels for food, and patriotic pinwheel decorations. You'll find most everything you need at Sears for $5 off $50. If all else fails, go ahead, park the kids in front of the TV so you can enjoy some quiet time…but why not keep the entertainment educational? Save $10 off your $75 purchase at Discovery Channel Store.
But we all know it's about the main attraction, so when night falls, find yourself a cozy spot, watch the fireworks, and from everyone at Coupon Craze, have yourself a very happy Fourth of July!
NEW
TheFlowerFactoryUSA: 20% off purchase; Expires: July 31st, 2012
CaseCrown: 30% off purchase; Expires: July 31st, 2012
TicketSolutions: 5% off purchase; Expires: July 31st, 2012
FocalPrice: 16% off select Items; Expires: July 31st, 2012
HSN: $5 off $25 Beauty purchase; Expires: July 31st, 2012
EXPIRING
Shoe Metro: $15 off $75 purchase; Expires: July 10th, 2012
AllPosters: 22% off purchase; Expires: July 6th, 2012
Karen Kane: 25% off purchase; Expires: July 7th, 2012
Eyes Lips Face: Buy One Get One 50% Off; Expires: July 9th, 2012
BestOfferBuy: 10% off $30 purchase; Expires: July 6th, 2012